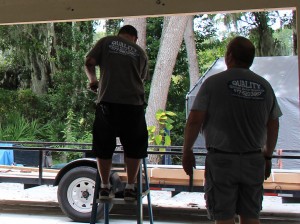 Services
Quality Garage Door Services of Orlando provides a wide range of expert services relating to overhead garage doors. We offer top notch garage door services to the entire Orlando metro area for both residential and commercial applications. We have been serving residential homeowners as well as commercial businesses and building managers for over 30 years! We are a local, family owned company that is very proud to be part of the Orlando community. We are born and raised in the area and know every inch of Orlando. We hope that our services can be useful to you and that you find the experience to be a pleasant one. We also want to make sure our garage door services are low in price and fit within your budget. Our goal is to earn you as a customer for life so we want to make sure your entire experience with Quality Garage Door Services of Orlando is a perfect one!
We have more than likely replaced a door, installed a new opener, fixed a cable or replaced a garage door spring for one or many of your neighbors. We know that you have a lot of choices for garage door services in the Orlando area and hope that we can earn your business!
All of our garage door services are performed by highly trained garage door technicians who know what they are doing. They are always trained in the latest techniques and technologies as they change and evolve. It is extremely important for our technicians to be highly knowledgeable not only so that they can do the best possible job on your garage door or opener but also so that we can make sure you get the lowest possible price. If we know what needs to be fixed and how to fix it more efficiently then we can of course save you money!
Call Quality Garage Door Services of Orlando today. We look forward to the opportunity to serve you and your family or your business!
Call us today!
Quality Garage Door Services -
Orlando's #1 Garage Door Company