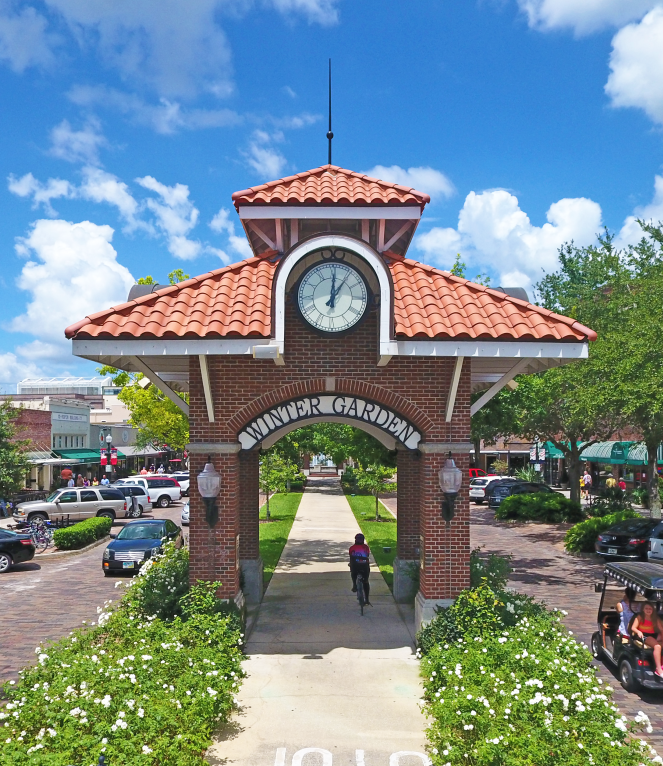 Winter Garden, Florida
Winter Garden, Florida is a city located in Orange County, Florida. The area that is now Winter Garden was originally settled in the 1850s by David Mizell Sr. and his family. The city was officially incorporated in 1908 and was named after the numerous citrus groves in the area. The city's economy was primarily based on agriculture, with citrus being the main crop. In the early 20th century, the city began to develop as a suburban community and saw an increase in population and new businesses. Many of the early settlers were farmers who came to the area to grow citrus, vegetables and other crops. With the opening of the Atlantic Coast Line Railroad in 1885, Winter Garden's agricultural industry boomed.
Winter Garden is also known for its historic downtown area, which features a variety of shops, restaurants, and cultural venues, that still retain their charm and history of the early settlers. Today, Winter Garden is a growing city with a population of around 44,000 and is a popular tourist destination, due to its location, history, and scenic beauty.
AFFORDABLE GARAGE DOOR REPAIR NEAR ME
Family owned, Local Small business
Honest, Friendly, Helpful, Fair Priced
Prompt, Professional, Clean
Are You Ready for a New Garage Door and Wifi Opener?
New Openers work with iPhone, Android - MyQ LiftMaster
Beautiful New Garage Doors Made to Look like Wood
Glass Garage Doors and Custom Overhead Door Hardware
Local Services in Winter Garden, Florida
Electrician
Maddox Electric Co Inc
710 Garden Commerce Pkwy, Winter Garden, FL 34787
(407) 934-8084
mecofl.com
Armstrong Air and Electric
671 Business Park Blvd, Winter Garden, FL 34787
(407) 877-8090
armstrongairinc.com
Heating & Air Conditioning, HVAC
Duncan's Air Conditioning & Heating
1319 Green Forest Ct Suite 404, Winter Garden, FL 34787
(407) 470-7014
duncansacorlando.com
Titan air conditioning and heating
1150 E Plant St, Winter Garden, FL 34787
(407) 296-9622
titanairfl.com
Home Remodeling
Newcastle Construction Services, LLC
611 E Bay St, Winter Garden, FL 34787
(407) 506-7215
builtbynewcastle.com
Paulista Construction Group.
3065 Daniels Rd Suit 1195, Winter Garden, FL 34787
(978) 908-7269
paulistaconstruction.com
Painting
Klein & Son's Painting LLC
15502 Stoneybrook W Pkwy #104, Winter Garden, FL 34787
(407) 409-5971
paintingcontractorinwintergardenfl.com
Florida's Paint Masters
455 Home Grove Dr, Winter Garden, FL 34787
(407) 732-1024
floridaspaintmasters.com
Quality Garage Door Service -
Orlando's #1 Garage Door Company