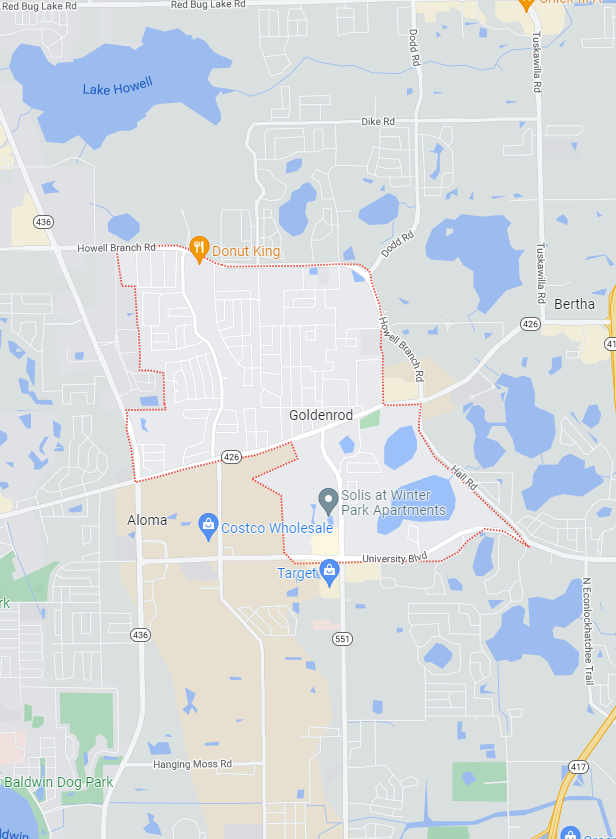 Goldenrod, Florida
Goldenrod is an unincorporated community located in Orange County, Florida, United States. It is situated in the eastern part of the county, near the border with Seminole County. Goldenrod is located just east of the city of Winter Park and around 10 miles (16km) north of the city of Orlando.
The area is primarily suburban, and is known for its proximity to theme parks and other tourist attractions. Goldenrod has a mix of residential properties, including single-family homes, townhouses, and apartment buildings, and has a relatively affordable housing market compared to surrounding areas.
Goldenrod Road is the main road that runs through the area. The community is well-connected to major roads and highways, making it easy for residents to access the rest of the city and the wider Central Florida area. Goldenrod is also located close to the Lake Jessup and the Seminole County Conservation Area which provides good recreational opportunities such as fishing, boating and bird watching.
Overall, Goldenrod is considered a peaceful and family-friendly community with a good quality of life, ample opportunities for outdoor recreation, and proximity to a variety of local amenities and services.
AFFORDABLE GARAGE DOOR REPAIR NEAR ME
Family owned, Local Small business
Honest, Friendly, Helpful, Fair Priced
Prompt, Professional, Clean
We Can Help With Anything Garage Door Related
Need to Program Your Car to Your Garage Door Opener? Doorlink?
Need New Universal Garage Door Remotes?
Need a Sensor that Lets You Know if Your Garage Door is Open?
Local Services in Goldenrod, Florida
Plumber
Holland Plumbing, Inc.
3500 Aloma Ave Suite C-38, Winter Park, FL 32792
(407) 284-0723
hollandplumbinginc.com
Pratt Brothers Plumbing Services
3500 Aloma Ave Suite 2806, Winter Park, FL 32792
(407) 759-4894
pratt-brothers-plumbing-services.business.site
Heating & Air Conditioning, HVAC
Greens Energy Services
186 N Goldenrod Rd, Orlando, FL 32807
(407) 813-1131
greensenergy.com
HVAC Pro Blueprint
(321) 304-0645
orlandohvacrepairs.com
Home Remodeling
Eastside Kitchen and Bath
995 N Goldenrod Rd Suite A, Orlando, FL 32807
(407) 907-2627
eastsidekitchensandbaths.com
BFARR Contracting
3500 Aloma Ave Ste C6, Winter Park, FL 32792
(321) 444-6446
bfarrcontracting.com
Painting
D'Vine Painting, LLC
(407) 960-2535
dvinepainting.com
Magic Brush House Painting LLC
(407) 714-5065
magic-brush-house-painting-llc.business.site
Quality Garage Door Service -
Orlando's #1 Garage Door Company