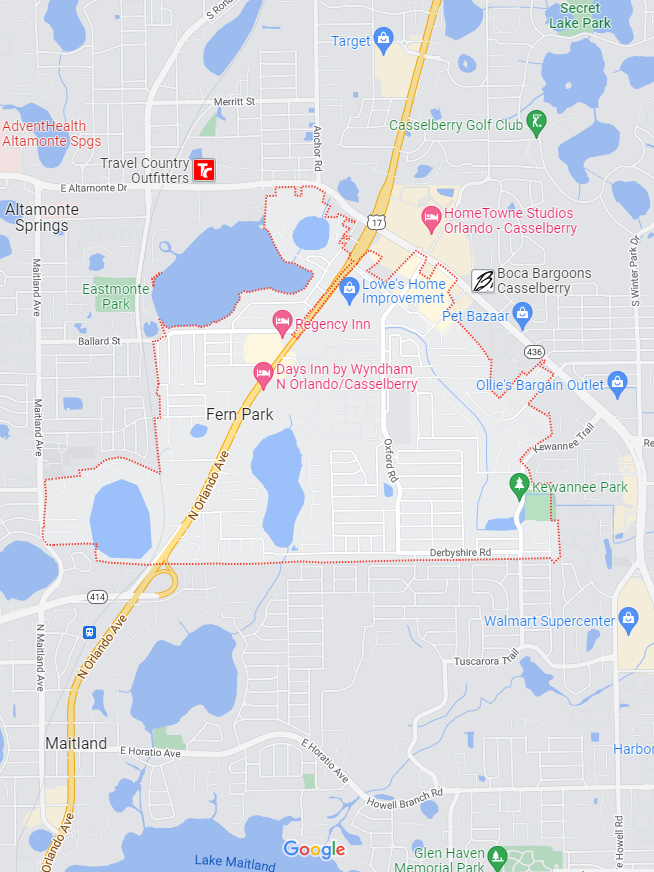 Fern Park, Florida
Broken spring in Fern Park? Call Quality! Fern Park is a small unincorporated community located in Seminole County, Florida, just north of the city of Orlando. The community is known for its quiet, suburban atmosphere and is considered a desirable place to live for families and retirees.
Fern Park has a mix of residential properties, including single-family homes, townhouses, and apartment buildings, and has a relatively affordable housing market compared to surrounding areas. The community is served by the Seminole County Public School System, which has several schools in the area.
The area is well connected to major roads and highways, making it easy for residents to access the rest of the city and the wider Central Florida area. Fern Park is also located close to the East Altamonte Springs which provides good recreational opportunities such as, parks, green spaces, sports fields, and playgrounds. The area also has a good proximity to shopping centers, restaurants, and other amenities.
Additionally, Fern Park is located near the Wekiva Springs State Park, which offers opportunities for hiking, swimming, and canoeing. And it also located few miles from the Enchanted Forest Nature Sanctuary which is known for its natural beauty, trails and bird watching.
Overall, Fern Park is considered a peaceful and family-friendly community with a good quality of life, ample opportunities for outdoor recreation, and proximity to a variety of local amenities and services. Call us if you ever need garage door service. We will be there for you!
AFFORDABLE GARAGE DOOR REPAIR NEAR ME
Family owned, Local Small business
Honest, Friendly, Helpful, Fair Priced
Prompt, Professional, Clean
Need a New Overhead Garage Door?
Free Estimates on All New Garage Doors
Customize, Personalize, Build Your New Garage Door!
Increase the Value of Your Home
Local Services in Fern Park, Florida
Electricians
Trinity Electrical Contractors Inc
(407) 821-7131
trinityelectricalcontractors.com
Grayson Lighting and Electrical
(321) 236-1240
graysonpro.com
Heating & Air Conditioning, HVAC
R&A HVAC Supply
130 Obrien Rd, Fern Park, FL 32730
(407) 969-2100
Air Flow Designs Heating and Air Conditioning
250 Jasmine Rd, Casselberry, FL 32707
(407) 663-5791
airflowdesigns.com
Home Remodeling
Frazier Contracting LLC
720 Maitland Ave, Altamonte Springs, FL 32701
(407) 796-1157
fraziercontracting.com
Konkol Custom Homes & Remodeling
815 Orienta Ave #1050, Altamonte Springs, FL 32701
(407) 539-2938
konkolcustom.com
Painting
Fresh Walls Painting, LLC
(407) 777-3080
freshwallsfl.com
Santellis Painting LLC
(321) 330-5332
santellispainting.com
Quality Garage Door Service -
Orlando's #1 Garage Door Company